!IMG SRC="images/updated.gif">
THE 52ND REGIMENTAL STRING BAND
5088 Helene Road
Memphis, Tn. 38117
901-685-6678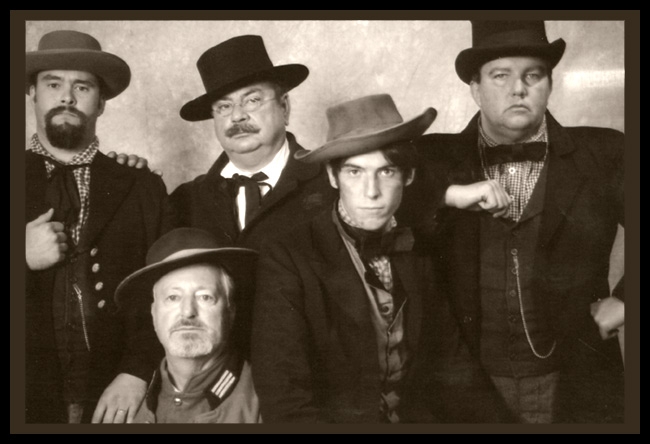 The 52nd Regimental String Band
Pictured are:
Back row, left to right: Jason Wade, Dave Eason, Greg Todd
Seated: Lee Millar, Preston Todd
THE 52ND REGIMENTAL STRING BAND
"The Most Entertaining Dance Band in Civil War Re-enacting"
Formed in 1990 and based in Memphis, TN, the 52nd Regimental String Band has provided Civil War era music and entertainment to audiences from Iowa to Georgia and Virginia to Louisiana. Dressing in reproduction Civil War era clothes, these talented re-enactors use "period type" instruments and vocals to perform a variety of songs of the 19th century including military songs, parlor songs and minstrel songs. They are also known as "The Most Entertaining Dance Band in Civil War Re-enacting."
The 52nd Regimental String Band placed 1st in one category as well as 2nd place in two other categories in the Dixie Broadcasting WDXB Southern Heritage Music Awards.
Winners of the Jefferson Davis Award from the Tennessee Division SCV. This is presented to members of the TN Division who have rendered outstanding service to the organization or contributed to the maintenance of our Heritage. Recipients of a Certificate of Appreciation from Shelby County, TN.
Contact:

Greg Todd, 5088 Helene Rd., Memphis, TN

38117 Phone: (901) 685-6678 Cell Phone: (901) 216-7584


Click Here to E-mail Greg Todd
To see a video of us performing at Shiloh National Military Park, follow the link below:
To take a tour of our web site click on any of the links below:
Page last updated: 01/15/2008

© 2005-2007 52nd Regimental String Band. All rights reserved.