George S. Nichols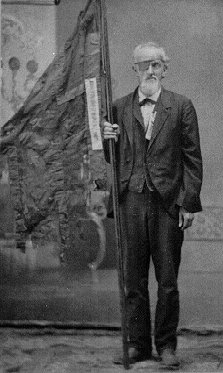 Pictured is Private George S. Nichols of Company "D", 1st Tennessee Infantry. The following inscription, written in Nichols' own hand, appears on the back of the photograph:

This is the Battle Flag of the 1st Tenn. Regt. 26 men was killed and wounded during the war between the North & South from 1861 to 1865. Edgar Nichol also died in Nashville Tenn. in 1904 he was Color bearer at the time of the surrender in North Carolina 1865. George S. Nichols is the last living soldier who ever carried it in Battle.
this March 16, 1906.

Geo. S. Nichols
Co. D. 1st Tenn. Regt.